Two thousand years ago, Jesus used parables and questions to captivate his listeners. This method provoked critical thinking among his listeners, so that they would make their own individual judgements, and they would evaluate themselves according to their own interpretation of the story or message he was sharing.
Our local partners in Malaysia took this as an inspiration to start Mari Bercerita (storytelling) training online. The session was introduced to encourage church leaders to use Bible stories within their teaching, the way Jesus did. The training focuses on learning various Bible stories and understanding the message behind those stories, and not just memorizing the scripture.
Due to the pandemic, our local partners have been sending hard copies of the training book to the participants of the Mari Bercerita training and then doing the sessions via video chat. They emphasize distributing hard copies rather than soft copy is because most of the leader's congregation lives in rural parts of Malaysia and do not have internet access or even access to computers. The materials are sent to both leaders that are participating in the training and their congregation for them to use for their own training sessions.
Our partners also ensure that the participants understand the story by asking them to present their understanding within the training itself in their own way. The training involves learning to construct questions from the stories that can be used to test the understanding of the leader's own congregation.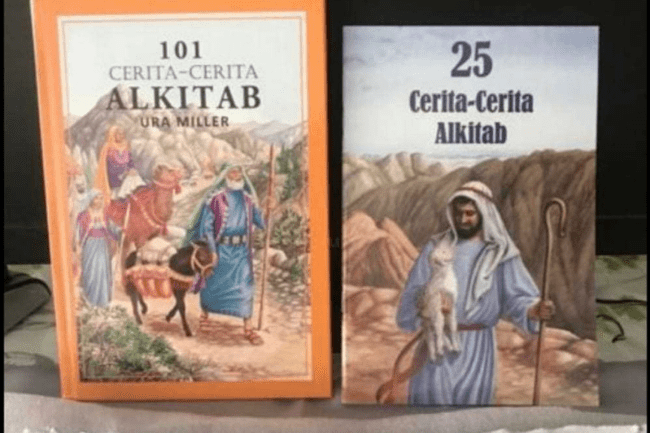 The participants were surprised at how fruitful the session was, "Bible story times are usually used for children, but I did not realise that Jesus used this method to teach adults as well. I have really learned a lot these couple of days," said one of the participants.
"I love the fact that we got to learn on how to construct questions to make our own training to be more interactive." said another participant.
Our partners are very pleased with the feedback that they received. Some of the participants are not just empowered by the training but also requested to be part of the team to conduct trainings for other leaders in other parts of Malaysia. Our local partner hopes that more trainings such as this one can be conducted in the future, and with Malaysia slowly emerging back to normalcy since the pandemic started, impactful face-to-face Mari Bercerita trainings can be part of their future plan.
· Pray that the God's story/good news will continue to spread in Malaysia. Pray that those listening to these Words will be touched by the Holy Spirit and they will continue to seek God more and more.
· Pray that our local partners would be able to conduct more training such as this in the future.
· Pray that the leaders are able to use methods learned from the training in order to teach God's word to their congregation.