On November 7, the International Day of Prayer for the Persecuted Church, Christians across North America will gather to pray for our persecuted family. This year's countries of focus are Cuba, Afghanistan, India, and Algeria. An Algerian pastor sat down with Open Doors to discuss the way that the Gospel is changing lives in Algeria despite persecution.
Pastor Salah leads a big church in Tizi Ouzou in Algeria. It is one of the sixteen churches whose buildings were closed since the government started their campaign against the growing church in their country.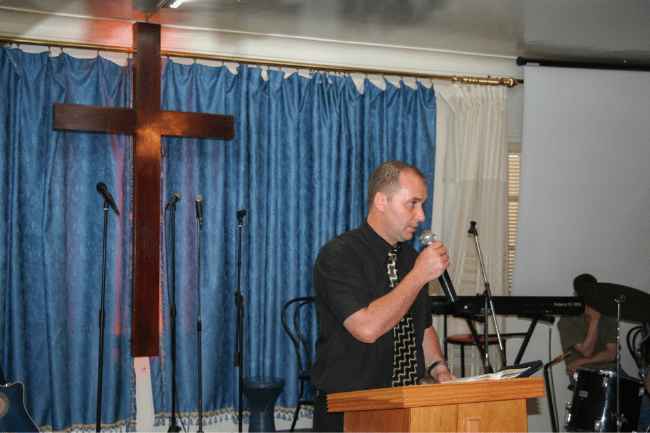 He begins by talking about gender-specific persecution. "We see that women are more vulnerable to persecution. For example, a woman cannot live on her own in our culture, they cannot have their own apartment." A woman only leaves the house of her parents when she gets married. As a result, if a woman converts to Christianity and gets in trouble with her family, she cannot flee the home.
"There are cases where women are imprisoned in their houses. Contact with people outside is forbidden and often their cell phone is taken from them. They end up in isolation, in a terrible situation." In these cases the church might send other Christian women to visit them in their homes if possible, to provide some encouragement.
How do those women hold on to their faith in isolation? "Often it depends on how genuine their encounter with Jesus has been. If they persevere in their faith, they will come out of this victorious."
But it will not depend only on that. The church also plays a role in this. "Of course, that only goes for the cases we know of. When we somehow can contact the woman, we encourage her to invest in her relationship with her parents and the other family members at home. When there is a relationship of friendship and trust, this will improve the situation. Some sisters of the church will try to build a relationship with the family. Usually it takes time, but with time a solution will come."
In cases of conversion, the families often respond more strictly because they fear the reactions of their neighbours and society. Most families are stricter in the beginning when they just discovered that their daughter has started following Jesus. Later, especially when the convert keeps the relationship good, often restrictive measures are eased.
"It also happens that a married woman will convert, and her husband is a Muslim. Husbands sometimes threaten their wives that they might lose everything, their marriage, seeing their children." In these cases the men find the Algerian law at their side. "It depends on the husband how far they go. There are husbands who are okay with the conversion of their wives, but others really try to put pressure." Some of these marriages end in a divorce restricting the women from seeing her children. "For this reason many married women live their faith discretely and very careful."
In addition to gendered persecution, the church in Algeria has been struggling with closures – including Salah's church. Since 2018, sixteen churches in Algeria got the order to close and were closed and sealed by the authorities. Others have received the same notice, but aren't sealed yet by the authorities. "The church closures have led to a difficult situation. Many Christians have questions. 'We say God is Almighty, why isn't he capable to solve this situation?' some say."
It's a legitimate question. "My answer is that the Lord in His Word foresaid that the church will be persecuted. When you look at the first church, right after the miracles and all the spectacular things that happened persecution came. At that time it wasn't a judgement on the church. I try to make clear to the church that sooner or later there will be persecution for Christians. The gospel is full of that message."
"We encourage the people of those closed churches to visit other churches in the region, it is important for Christians to have fellowship. But we also went online. Our Saturday church service can be seen life via the internet, the Tuesday services aren't live, but are a recording. We have about 12.000 to 14.000 views per church service. We still see new people joining the church and coming to Christ, but the growth has slowed down."
Is Salah worried about the church? "No, I am not. The church is God's work, I am fully aware of that. Yes, people can step away from the church, but God does not. The situation with the church closures and the lockdown because of COVID-19 have pushed us to develop a new strategy, for example going online. So actually the situation has helped the church to develop."
Salah is optimistic. "It is impossible for the government to continue like this. One day they will let go of the measures. But we as church will need the wisdom of God to know how to continue under the current circumstances."
On November 7, join together with churches across Canada in praying for Algeria.
Pray that the churches will be given strength and perseverance in the midst of crackdown and building closures. Pray for women and girls who suffer from gendered persecution and are vulnerable when they convert to Christianity.