Thoughts from an escapee
Timothy Cho escaped from North Korea. At the beginning of Advent season, he reflects on life during the Christmas season for his persecuted brothers and sisters in his old homeland.
Another Christmas and New Year are approaching, and despite the coronavirus continuing to create challenges for people around the world, many of us are still hoping to find peace this Christmas season.
It's been several years since I first learned about Christmas – God's true gift sending Jesus to earth. Now that I have the freedom of living in a democratic society, I enjoy this season – Christmas is the biggest celebration of the year for me.
But it wasn't possible to celebrate Christmas during my life in North Korea. I hadn't even heard of Christmas.
Christmas eve is hijacked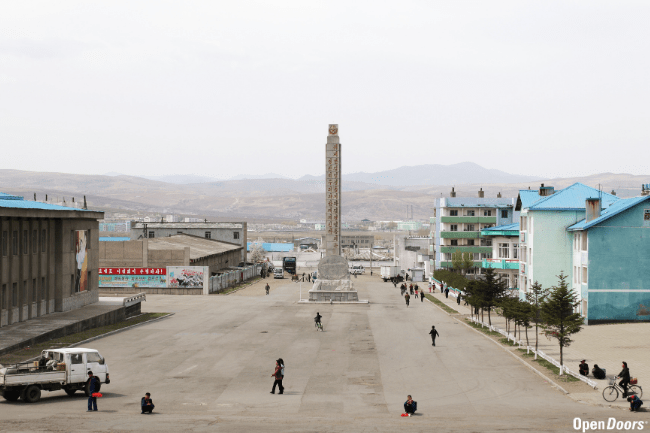 Every Christmas, I think of my persecuted brothers and sisters in North Korea. There is no Christmas in this country, but they have created their own version of Christmas eve. On 24th December, it is the birthday of the wife of Kim Il-sung, the founder of North Korea – her name is Kim Jong-suk. Schools, universities, factories, and public institutions all have to participate in singing in the evening, similar to carol singing, and celebrate her birthday.
I used to join a singing evening at my school to celebrate Kim Jong-suk's birthday. During the day, I also took flowers to her statues. My favourite part of her birthday was that I could stay at home and watch films, although they were all propaganda films. In North Korea, December 24th is a reminder to remain loyal to the ruling family.
Christmas for secret believers
North Korean secret believers can't celebrate Christmas publicly. If a secret celebration is discovered, that can lead to their whole family being arrested, imprisoned, tortured, and killed. They must keep most of their celebrations in their hearts. They might whisper hymns and pray in a hidden place, perhaps secretly reading the Bible if they have one.
What do North Koreans hope for their country?
These challenges are reflected in the hopes of my North Korean friends who now live outside of North Korea.
Il-ho*, who now lives in the UK, hopes North Korean people will be able to have at least one nice meal during the holidays. "My wishes for them are that they endure the impact of the covid-19 crisis and no one dies of starvation in 2021."
Ji-Yong*, who is also now based in the UK, says, "It makes me feel guilty each time I have a nice meal in the UK. I know covid-19 is making things very hard and there is a lack of rice, corn rice and powder and flour in the market. I really hope there is humanitarian aid and basic food for North Korean people in 2021."
Myong-sook*, who now lives in Seoul, finds it hard to think of Christmas or New Year in North Korea, as the situation there does not seem to have improved since her escape several years ago. "It leaves me in tears," she says. "My new year wish is that there is continuing evangelism by secret believers in North Korea. Underground churches and secret believers are the salt and light in the darkness."
Seng-he*, who is based in the UK, is thankful to God for where she is now during the pandemic. "But it makes me feel sad when thinking of North Korean people, particularly during the Christmas and New Year holidays," she says. "It is hard to predict, but there is a tomorrow for my brothers and sisters in North Korea, and my thoughts and prayers for them in the New Year will continue."
My own prayer for North Korea in 2021 is also that I will not hear of anyone who died of starvation. I usually cry when I pray for my brothers and sisters in North Korea. Sometimes my tears don't come, but my heart feels the pain of their starvation and suffering, prisoners screaming for survival, street children crying for their parents as I did, and the deep sigh of families' whispering, 'We survived another day.'
My new year wish is for more prayers from God's people, and for international 'Good Samaritans' to reach into this darkest land. During the holiday season, I will light a candle and pray for my brothers and sisters in North Korea. I know God loves them.
This Christmas, please pray:
· Pray for protection for the secret believers, that they will be safe in God's hands, and that they will continue to be the salt and light in their communities. Pray this verse for them: "Those who hope in the Lord will renew their strength. They will soar on wings like eagles; they will run and not grow weary, they will walk and not be faint" (Isaiah 40:31).
· Pray that God will mobilise more of His people and community to reach out to those in starvation, in prison camps, on the streets, in orphanages, that desperate people in North Korea might know the hope of tomorrow in their hearts.
· Pray for the leadership of North Korea, as our prayers can deeply penetrate even the hard hearts of Kim Jong-un and the other leaders of the regime. Pray that they will recognise their responsibility to protect their citizens from starvation, persecution, and injustice.
· Pray that, despite the risks, the secret church in North Korea will be able to reach out to others with God's love, even in this deeply tyrannical country.
· Pray that one day soon, there will be freedom on the whole Korean peninsula, and that once again Pyongyang, North Korea's capital, will be known as the Second Jerusalem of East Asia.
Learn more
On the latest World Watch Weekly Podcast, you can learn about the reasons persecuted Christians have to keep their Christmas celebrations secret.