THERE IS NO AGE REQUIREMENT FOR FOLLOWING CHRIST.
We believe that youth in Canada need to rise up to the challenge of saying "Yes" to Jesus wherever, whenever and whatever He calls us to do.
In fact, around the world, many youth are being persecuted for their faith in Christ because they refuse to back down in the face of pressure, but courageously choose to be obedient to Christ. We can learn from their examples. Check out the resources below to find out more. If you want to talk to someone about how your youth group can learn more about the persecuted church, drop us a line at youth@odcan.org and we'd love to help!
GUTS AND COURAGE: STORIES FROM WHERE FAITH COSTS THE MOST
Strengthening Persecuted Believers "One prayer at a time". Download the PDF provided here below for additional information. Get in touch with us if you would like to go deeper and learn more.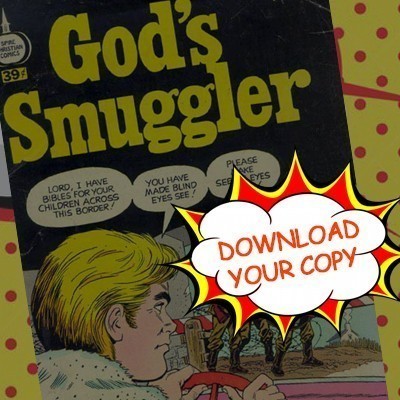 In the 1970s, comic books looked a lot different than today! Check out this vintage comic book that highlights the story of Brother Andrew. You can read the full story in God's Smuggler available in our online store. Download the comic and begin to explore this amazing story of faith and obedience.
WHAT NOW? HOW YOU CAN GET INVOLVED

"Give?!  I don't have gold bars hiding under my bed!", you may say. Probably not. BUT a small amount can still make a big difference. Maybe you can for-go that Big Mac you were planning this week, or the movie ticket.
If you are unable to donate, consider fundraising! We have some great fundraising ideas — some that you can do on your own, and some that we help organize!
You can walk, bake, ride, run… for them
War, terror, destruction. Christians in many countries across the world have been targeted, and they need our prayer and support.
But you don't need to feel helpless.
You can support them, standing with them by doing the things you love.
Running, walking, baking, swimming, cycling… you can do just about anything to raise money for your persecuted family in the Middle East, Asia, Africa or Latin America.
Contact us to find out more!
Email – opendoorsca@odcan.org or
Message us on social

Have you ever received a card or letter in the mail from someone that was unexpected? Felt pretty good, didn't it? We all like getting those little gestures that people actually care and are thinking of us.
So why not send a small note to Christians that are suffering because of their faith? Many times, they feel isolated and alone and are unaware that many people are praying for them. Could you let them know that you are thinking of them? It's really easy to do and takes very little time.