Violence and Displacement
Over the last month, thousands of locals from the majority Christian Chin State have been displaced due to increasing violence from Myanmar's military. Since the beginning of October, the Tatmadaw (Burmese local army) has been sending more troops up to the mountainous state to ward off resistance fighters, causing an uptick on church attacks, and forcing believers to uproot their lives and head for cover in the jungle.
The ruling military junta or the State Administrative Council (SAC) is on the military offense in Chin State to fight the Chin National Front, amidst other resistance groups. In their advances, the military has ransacked, shelled, and occupied churches, killed one pastor, and paralysed entire villages with fear.
"The situation is difficult to describe," says Lwin*, a local Open Doors partner. "Wherever the military goes, they burn the houses, kill the pigs, and occupy churches."
"The fighting is intense in Christian areas in Falam Township in Chin State, and Kachin State. It's alarming because believers' families there are forced to hide in the forest – migration in the Chin State is happening in droves and the towns have become completely empty. There is nowhere to hide but the jungle."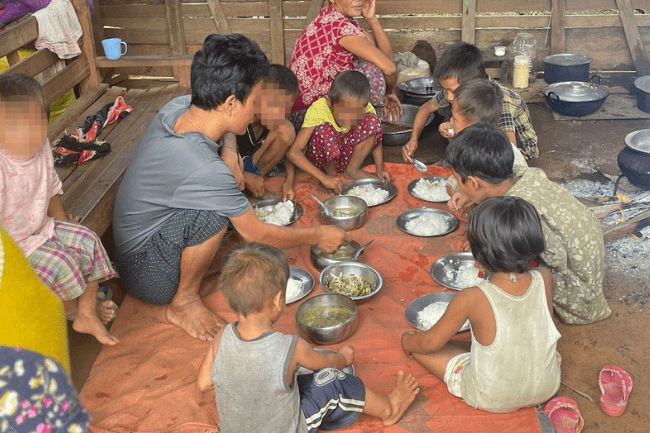 Zew That*, a Chin believer who had to escape the violence, shares: "Whenever we hear a loud voice, or gunshots, we are in fear."
He points out that the strategy to destroy property is particularly hurtful for the minority people Chin. "For us Chin our philosophy is totally different from the Burmese tribe (the majority of people in Myanmar belong to this tribe). For them food and clothing are the most important thing, but for us Chin people, the number one priority is our house (because of the shelter). So, when the house is destroyed, it's difficult for us to forgive. But we know that the Bible tells us to forgive our enemies. We hope that other Christians will pray for us that we are able to forgive."
Zew mentioned that even his 8-year-old daughter prays for the enemies to be killed. "[I was shocked when she prayed], 'Lord, kill the generals. Kill the army. Kill them please.' I told her that God wants us to love our enemies, and then she changed her prayer. She said, 'Lord, please stop the dictatorship.' All this violence is hard not only for us, but [especially for] the children."
"The church has been through so much, and believers are traumatized," Daisy Htun*, another local partner adds. "Church building and church properties have been attacked, vandalized, robbed, and even burned. When the bombings started and the violent crackdowns followed, the people had no choice but to flee. According to our field records, 30 churches have been attacked by the military since the coup."
The Christian Response
Despite the increased violence, God has been opening 'pockets of opportunities' to continue His work in Myanmar. "We are able to implement the trainings online, and we are able to go and visit the persecuted church and internally displaced peoples in the midst of unrest in the country," shares Lwin. "We are able to resume some work with the youth, children, and married couples, and God has enabled us to reach refugees with relief."
However, it's not without its challenges: "The military says they will kill all the men who stand in their way. There is a shoot to kill order, so there is a climate of fear and anxiety. Believers have become internally displaced people and are in truly awful conditions," shares Lwin.
"Winter is coming and they don't have proper clothing. We are being pressed from all sides – in some villages, the military doesn't even allow goods coming in. Basic needs, basic medicines like paracetamol, are out of reach. The people are feeling a sense of helplessness."
"We have to be careful with our relief work because sometimes, a truck full of supplies for believers can be misconstrued as supplies being provided to rebel groups. We have to be careful, but we believe the Lord is in control."
Encouraging Developments
As of September 2021, Open Doors through its local church partners has directly reached 17,135 believers with relief, practical aid, and biblical training and encouragement in Myanmar.
Hayma Aye*, one of the IDPs, shares: "Praise the Lord for the food relief distribution for the believers. Me and my daughter are able to sustain our lives until today. It's been 3 months for us in the forest. You are our life savers. We are eating the beans, soup and rice."
Our local partners also report that this year, 544 people have chosen to follow Jesus and there have been 166 new baptisms. Lwin says: "Praise God, even if there is helplessness, we are seeing a lot of people coming to Christ at this time. God is still bringing people unto Himself."