For Christians across the globe, Christmas marks a time to celebrate our Saviour's birth. However, for many, like 13-year-old Sele and his family in Nigeria, it's a bittersweet celebration as they are painfully aware of the empty seat at their Christmas table. But despite the loss of his father Sele still has hope, and the prayers and support of Christian community help Sele realize his dream of helping others
In the heart of Nigeria, 13-year-old Sele is dressed in his Sunday best – a modest suit consisting of a white shirt and pair of trousers decorated with black piping. His family is getting ready for the Christmas Eve service. Tomorrow, they will return for the Christmas Day service. Sele says "My best thing about Christmas is the dramas we watch in church and the songs we sing, and how they share Christmas gifts."
After the Christmas church service, Sele's family and neighbours enjoy a humble meal and sing together. And if there is a little extra money, maybe each will open a small gift.
But at the dinner table and throughout the celebrations, there is an empty seat the family is painfully aware of. Sele's father is not there. He was killed in 2011 for being a Christian. "Sele never knew his dad, Solomon," explains Sele's mum Cecilia. He died when Sele was just two years old.
"We heard gunshots everywhere"
"My husband died in 2011… on a Sunday," shares Sele's mum. "That morning, he went to the market. His cousin died, and I was preparing food to take to the family's house."
Cecelia and the children were waiting for Solomon at his cousin's house when attacks against Christians broke-out in town. "We began to hear gunshots everywhere. There was smoke everywhere. The last call we had, Solomon said I should go home and take care of his children. He said everything in town was on fire, but I should stay calm…My heart was troubled, I sat down and I tried his number (several times), but it wasn't connecting."
"When my husband was alive, we were living peacefully. He was a farmer and provided in all our needs."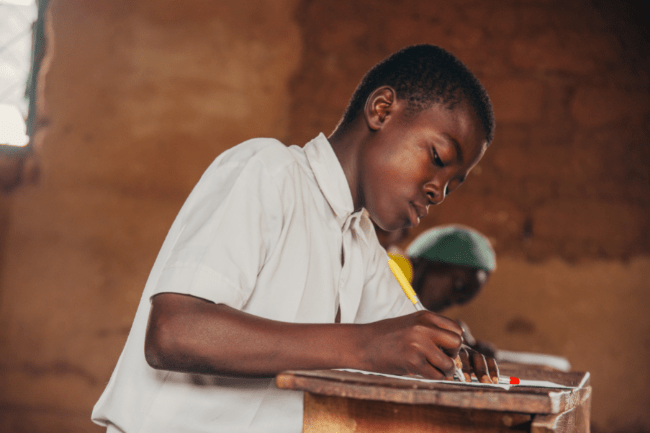 Cycles of violence against Christians have rendered countless widows and their children in deep economic strife. The day Sele's father was killed, his attackers undoubtedly knew they struck at the heart of a Christian family's future. But God never left Sele's family and the attackers' plan failed. "I decided to hold on to Jesus…" says Cecelia.
Thanks to Sele's uncle and aunt, his family has a house to live in today. "This house…is an answered prayer, God blessed me with it," explains Cecelia. "My concern was just to feed my children and make sure they go to school."
Cecelia has managed to carry on farming without her husband. In the afternoons, and over weekends, the family cultivates the farmland surrounding the house. The farm work is just one of the many chores Sele and his siblings must do to help put food on the table.
For some children, the field surrounding their house is as far as their future will go, simply because there's no extra money for school. But thanks to your support, Sele can go to a school where he can study and dream of making an impact on people's lives.
Your gifts help Sele achieve his dream
Sele's school is not just any school. The classroom is simple, and so is the furniture. Still, every pupil has their own desk space, and a teacher neatly dressed in a dark suit, delivers a well-prepared lesson. It's all very structured and far removed from what it could have been: an overcrowded place where students need to battle for a space to sit and have hardly sufficient stationary.
In the classroom Sele is studious. He is focused and participates enthusiastically.
"I love my school… my teachers teach me very well, and they are helping me to become what I want to be."
"One day, when I grow up, I want to be a doctor… I want to save lives and help people."
"My favourite subject is Mathematics because I love calculating and after school, I like to read my books, and do my assignments. If I don't go to school, I will feel very sad, because I will not become the doctor I want to be."
It's also a place of spiritual growth. This is a Christian school where it's safe for Sele to pray and share his faith openly. The school emblem, stitched to his shirt proudly shares their motto, 'The fear of God'.
Sele's favourite bible story is that of David and Goliath. "I want to be like David who had faith in God and defeated Goliath," he says.
"I want to say thank you to the brothers and sisters who are helping me to pay my school fees, may God bless them."
Cecelia echoes the sentiment: "I thank God for Open Doors, they are helping me, especially with Sele. They constantly come and visit me, and always support me with Sele's school fees. We thank you a lot… Especially Sele, after each of his exams, when he receives the results, he asks me if I can call the office (Open Doors) to tell them he came first in his class."
While visiting Sele, Open Doors wanted to surprise him with a Christmas gift. We gave Sele a new formal shirt, trousers, and an illustrated Bible.
The support and generosity of Open Doors supporters help Sele realize his dream. In addition, Open Doors provided scholarships to more than 600 orphans in 2020. By the end of 2021 we hope to provide scholarships to 1,450 orphans in Nigeria.
Join us in thanking the Lord for his faithfulness as a Father which is so visible in Sele's life.
Pray that Sele will continue to study hard at school and that he can one day go and study medicine.
Pray that Sele will always put his trust in God first and seek His will in whatever he does.
Pray that the Lord will protect Sele and his family from harm
Pray that Sele and millions of other Christians in Africa will have a peaceful Christmas celebration this year. Pray that the hope and joy they experience, despite their circumstances and because of Christ's birth will be a testimony to all those who have not yet accepted Jesus Christ as their Saviour.