When Manayesh left the traditions she grew up in to become a Protestant believer, it lifted her out of the mire and placed her feet on solid ground. But her community was very angry, and when her husband died, they tried to use her vulnerability as an opportunity to either have her return to the Ethiopian Orthodox Church or leave the area. Your support has enabled OD partners to stand with Manayesh and assured her that she is never alone.
Manayesh, mother of four, is not a young woman anymore. And through her life, she has seen lots of suffering. She lives in a remote Ethiopian village, where most people follow the traditional Orthodox faith. For many in her area, being Ethiopian means being Orthodox.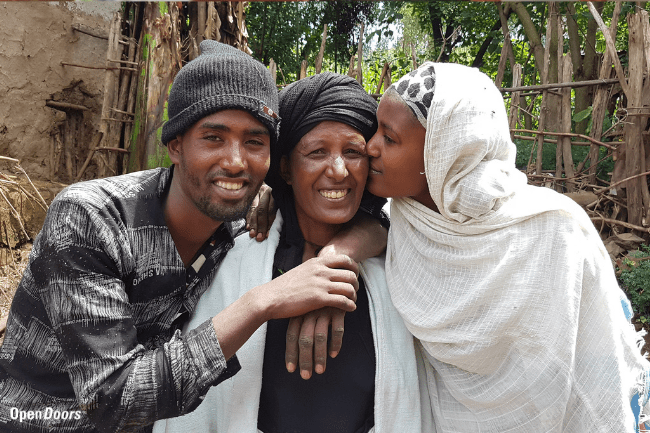 That all changed when Manayesh's mother became a Protestant, a highly offensive action for some within the Orthodox Church. She shared the Good News with Manayesh. "She taught me about Jesus. I came to believe the gospel to be true… I received Jesus, my burdens left me. Suffering had been my life, but it all became easier. I raised my children with a lot of pain and suffering."
The suffering Manayesh refers to was mostly the economic difficulties she experienced. She sold wood and kindling to get by. There was hardly ever enough to keep her children clothed, fed and in school. She was constantly worried.
But after Christ came into her life, things slowly began to change. "After I received the Lord, my heavy burden lightened… God helped me." Life remained physically challenging but the emotional and spiritual burdens she once carried disappeared. Eventually, Manayesh was able to save up enough money to buy an ox for ploughing.
BLESSED IS THE ONE WHO REMAINS STEADFAST UNDER TRIAL
The community saw the transformation in Manayesh's life and began harboring jealousy towards her. "They said, 'what is left for you here? You must leave.'"
These were not mere suggestions. They were threats. And every time they threatened her, she shared her faith with them: "Christ alone is to be worshiped…," she told them.
Though Manayesh attended the Protestant church, her husband remained Orthodox. He tolerated her faith and while he was still alive, he offered her some protection from her neighbours' threats. But when he died 14 years ago, there was no one to protect her and our years after her husband's death the tension between Manayesh and the community boiled over. "They took my ox and vandalized my house."
"We ploughed the land using the ox…it produced food for the children…[now] I had nothing to dress my children and myself. I suffered, I grieved for long. Also, I had no work. It was very distressing."
She thought of leaving the area, but she had nowhere to go – and she was determined to remain in Christ and to keep testifying for him.
Open Doors partners in Ethiopia heard about Manayesh's troubles. We gave Manayesh some money which she used to buy two oxen and some sheep and pay off a loan she took out to restore the house. "I praised the Lord's name, for He prepared this support for me. If I did not receive this help, my life would have been in danger. My children and I would not have survived. What would we have worn? What would we have eaten?"
Today that investment into Manayesh, has grown into a small but successful sheep farm. "I buy sheep and when they give birth, I sell the lambs. I now also have two calves and a cow I bought with the profit I gained…it is all from the Lord!"
During our last visited to Manayesh, we were met with a most unexpected scene. Her mother had just died, and we found people from the village standing around in the compound to pay their respects. For a very long time Manayesh and her children had lived like outsiders in their own village. No one visited and no one cared about them. But today, Manayesh had regained some dignity and standing in society – enough to motivate people to show her this kindness at a time of loss.
Praise God for the work He has done. Manayesh says: "Glory to God. May God be blessed. May God be praised for me. This is a praise point that we thank God about our prosperity."
The support Manayesh has received has strengthened her faith and her children's. But life is still hard for Manayesh and she has concerns: "Even though people come and visit us, they do not love us as much as before. I live here with my two children and we are fighting by the Spirit. Pray for this. Also, my children to continue dwelling in the house of the Lord."
Pray for her business. Pray that it will continue to grow and provide for her and serve as a testimony that God provides.