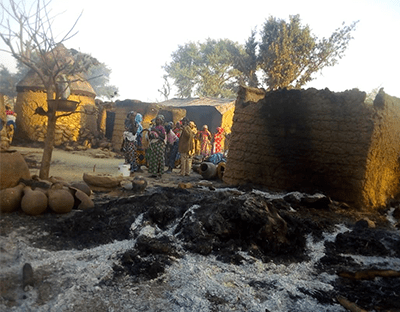 A string of violent incidents in the western African Sahel in recent weeks has provided the kind of evidence that has pushed countries in that region up the World Watch List for 2020. Churches and Christians are increasingly being targeted by Islamic militants. In February the U.N. had reported that "unprecedented levels of armed violence" in the border regions of Burkina Faso, Mali and Niger already had driven more than 1.1 million people out of their homes into displacement camps.
A manager for Catholic Relief Services said that because of the deteriorating situation in the Sahel, "It is becoming increasingly challenging to reach vulnerable populations. If the violence continues unabated, the numbers of displaced can be expected to rise dramatically".
The Sahel is a transitional zone spanning the continent between the southern edge of the Sahara Desert and Africa's southern interior. Militant Islamist groups, some of them driven out of the Middle East and elsewhere, have found a foothold in the regions borderlands, which are beyond the control of the weak national governments of Western Africa.
In Mali, a military base was attacked, killing at least 25 soldiers of the Malian army. The attack on the Malian army based harmed no civilians, and not all of the violence across the region specifically targets Christians. But Christians and their churches are increasingly targeted, the Open Doors World Watch Research unit mentioned.
Despite some French military success at suppressing insurgents since 2012, "radical Islamic groups have now regrouped, fueling ethnic rivalries in central Mali and elsewhere to boost recruitment and destabilize the region" World Watch Research persecution analyst Yonas Dembele said. "Christians are being indiscriminately targeted, with the Muslim population mostly being spared."
In Niger, some Muslim groups, who have been encouraged by firebrand imams angered by government orders to halt worship services in mosques and churches to slow the spread of the Covid-19 virus, took to the streets, setting fire to government buildings in one city, and provoking police volleys of tear gas in another. The population of Niger is 96% Muslim, and the small Christian community is deeply worried at growing Islamic extremism.
Incidents like these create a climate of fear and Christians still remember a few years ago when more than 45 Christian churches were attacked and burned.
A year ago, neither Niger nor Burkina Faso were included in the Open Doors World Watch List. This year, they are ranked 50th and 28th, respectively. Mali remains in the middle of the rankings, at No. 29.