There are four states in Mexico where Christians from rural indigenous communities face constant persecution – Chiapas, Oaxaca, Hidalgo, and Guerrero. Believers here face rejection, harassment, arrest, and even being kicked out of their homes completely, for choosing to leave the traditional faith of their indigenous group. But your prayers and support are helping Open Doors to fight for the rights of these believers, and show them that they are not alone or forgotten.
Javier is a Christian leader from an indigenous background in Mexico. His community follows a traditional faith that is a mixture of Catholicism and other traditional beliefs. But because Javier is an evangelical Christian, and no longer follows this traditional faith, he was kicked out of his home, along with three other Christian leaders and their families – a total of 33 people, including children.
Sadly, his story is not unusual. Mary*, part of the Open Doors team in Mexico, explains, "In the last six months, the violence endured by Christians at the hands of the majority has dramatically increased. In previous years, it would take six months for Christians to be expelled from their communities. The latest reports reveal that expulsions now are happening swiftly, with no time for anything."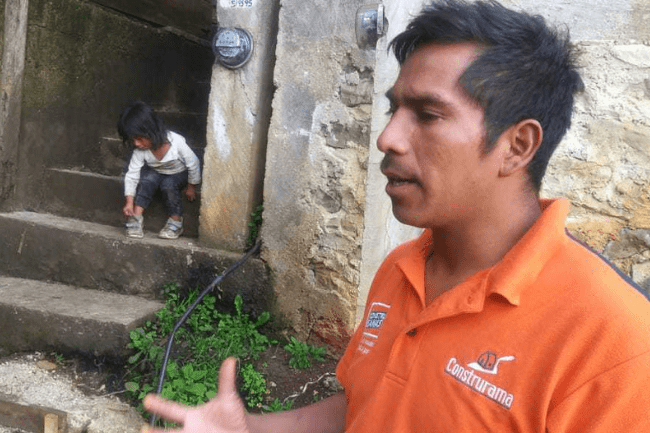 Javier was kicked out of his home town, Napite, in the state of Chiapas, in October 2019. He and the other believers found refuge in San Cristóbal de las Casas, at the home of a church leader, Pastor Octaviano, who has been giving them shelter and food.
The state authorities have been aware of this case from the moment the incident occurred. Patricia Mass Lazos, president of the Religious Affairs Committee, reported it to Chiapas State's Assembly ten days after it happened, on October 29th 2019, saying that the expulsion was a violation of fundamental human rights, including the right to religious freedom.
But despite the visibility of this case, the dream of these families to go back to their home town is still far away. Indigenous communities in Mexico find it easy to get away with persecuting those who leave their traditional faiths, because they have a certain amount of autonomy from the central government and are allowed to follow their own customary laws in certain areas of life. According to their own laws, converting to a religion that is different from the traditional faith is forbidden. Those who become evangelical Christian are often imprisoned for not participating in traditional rituals and festivities.
Thanks to your prayers and support, Open Doors has been able to hire lawyers to fight for the rights of these believers. This can be a very long path, and it isn't always fruitful, but it helps to show these believers that they are not alone, and that their global church family are willing to fight for them.
And when the aid that these families had been receiving from several Christian groups was coming to an end, your prayers and support helped the Open Doors team to step in. Open Doors has rented safe houses for the families to live in, and the team is working with them to set up a project that can help them earn an income.
But Javier and the other Christian families from his community have paid a high price for standing firm in their faith, and it's not a choice all new believers find easy to make. Open Doors has found that more than 70 percent of Christians who suffer persecution in rural indigenous areas to the point of expulsion from their hometowns give up their faith for fear of losing their homes and other belongings.
Mary says, "This figure is alarming, and our task is to reverse it. We believe that if we teach Christians that persecution is part of the faithful Christian's life and counterbalance the view of those who profess the theology of prosperity, then believers won't be caught by surprise by it, and they would know which path to take.
"The persecuted indigenous Church in Mexico reveals to us something genuine: that a lack of preparation to confront religious persecution leads to too many losses. The most striking of them all is the loss of faith itself."
Thank you for praying and giving to support believers like Javier, and to help prepare other believers to stand strong when they face this kind of persecution. They may have been rejected by one community, but your support helps to remind them that they are part of a global church family, and they are not forgotten.
For the case being brought on behalf of Javier and the other Christian families expelled from Napite, that the right to religious freedom will be upheld and they will be allowed to return home
That the project to help Javier and the other Christian families earn an income will be a success
For other believers facing losing their homes and their communities because of their faith, that God will give them strength and courage and provide for their needs
For wisdom for the Open Doors team as they seek to strengthen believers and prepare them to stand strong in the face of persecution.