"We are so grateful for your visits of our hospital, nobody else comes to see us and nobody makes so joyful events with songs, performances and Christmas presents! Thank you for your visit and the news about Isa Massih (Jesus) which gives hope to our children. Children here are very sick and everyday somebody of them die, but your words about Isa and His love help them to have a hope for the better future!"
Christmas gifts in Central Asia
In December, the Open Doors team in Central Asia was able to organize and host a number of outreach events to celebrate Christmas and the New Year. These events were held in a Central Asian country where the majority of the population is Muslim and there is no established Evangelical Church. In a place where Christian holidays pass unobserved, it was a joy for the Open Doors team to be able to share the nativity story with many people.
The team of fifteen believers visited middle schools, high schools, maternity hospitals, kindergartens, orphanages, and state colleges. They distributed 8,000 calendars containing Bible verses as well as 4,000 Christmas gifts to children. They organized street performances depicting the Gospel, and provided Christian literature written in the local language.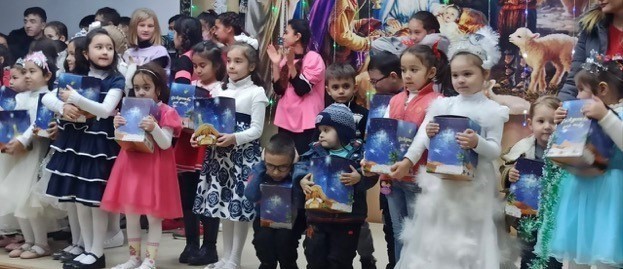 The project was overall successful, although the team faced challenges and situations which required them to trust the Lord and be obedient in difficult circumstances. One of the team members, Murat*, shared one of these experiences:
"The most opposition we faced came while holding an event at a local high school," he explained. "A mother of one of the students complained to the head teacher about the school hosting Christmas events. She then contacted the State Department of Education, who questioned us intensely about the materials we were distributing."
The State Department of Education recommended the materials be sent to the nation's head Muslim clergy for review. Upon hearing this, the team met together for a time of prayer to seek God's wisdom. This left them strengthened spiritually and motivated to continue with the project as planned.
"While awaiting a response, we visited another community where 50-100 people gathered for our Christmas program," Murat continued. "There we met people who had connections to the Department of Education and they promised to assist in the resolution of the conflict. As a result, our materials were not sent to the Muslim clergy and were cleared for use!"
The Lord truly blessed the outreach team. They were able to continue with their project and many lives were impacted. In response to their outreach, Zuchra*, a mother of six children, shared the effect it had had on her family:
"I am so grateful to God for the opportunity to know you. You came to our house and brought with you this amazing holiday. My daughter will celebrate Christmas for the first time in her life. It is amazing! Thank God for this wonderful gift in our lives!"
*Names changed for security reasons