After being displaced by the Islamic State in 2014, about 200 Iraqi Christian families are preparing to return to their homes in the city of Mosul and the surrounding Nineveh Plains.
Since the city was liberated in 2017, many displaced Christians have decided not to return, choosing instead to emigrate elsewhere. But there has been a slow trickle of returnees.
Before the fall of Saddam Hussein in 2003, Mosul had about 45,000 Christians, said the Rev. Raed Adel, who oversees the city's Syriac Catholic churches, to the Arab Weekly. Christians started leaving, and those who had not left by 2014 fled with the arrival of Islamic State.
The Islamist group destroyed much of the city and left messages on its walls such as, in Arabic script, "Land of the Caliphate" referring to the ambitions the group had to establish an Islamic state here.
Today other messages can be heard.  A group of local volunteers has been clearing rubble from the Syriac Catholic St Thomas Church. Mohammed Essam, co-founder of the group, told the Arab Weekly "This is a message to say 'Come back, Mosul is not complete without you'."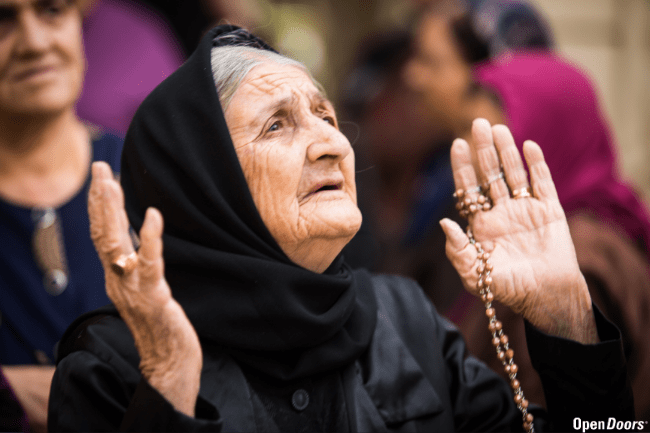 Mohammed witnessed the atrocities committed against minority groups, including the looting of the almost 200-year-old church and now wants to offer his support. His group has distributed food and raised funds to help rebuild the homes of the poorest residents. "We want to say that Christians belong here. That they have a rich history here," Essam said.
It is a rare initiative in a country where Christians are struggling to survive and have seen their properties confiscated.
Effective partners
"Our presence is a salt in this region," the Rev. Karam Shamasha told Catholic news site Crux. The priest recently returned to his village in northern Iraq after six years of studying in Rome.
He was shocked by the disintegration of society and the suffering of the people, but said he is convinced about the need for Christians to remain. "Our presence in this country is not only religious, it's also educational. We have the mission of creating a peaceful atmosphere in this country, demonstrating with the testimony of our faith, love and serenity, that there are ways of living that go beyond violence and war."
A new report by Open Doors highlights how faith-based groups in communities can make a real difference in helping a country to rebuild in post-conflict times. The report urges governments to be more intentional in funding small faith-based organizations in the work they do to address the needs of their community.
"In crisis times, local faith leaders are often more trusted than politicians or external organizations; their faith can instill in staff a passion to serve the most vulnerable; and their local reputation and commitment to ministry can lend credibility to an organization," said Kathryn Kraft, the report's author.
Learn More 
You can get involved in the project to bring hope to Iraq by writing your Member of Parliament and asking for government support to local faith actors. Visit the Hope for the Middle East page here.