On 9 November 1989, the world changed. The Berlin Wall, the most visible symbol of the division between East and West, was dismantled as people asserted their longing for freedom.
THE CHURCH UNDER COMMUNISM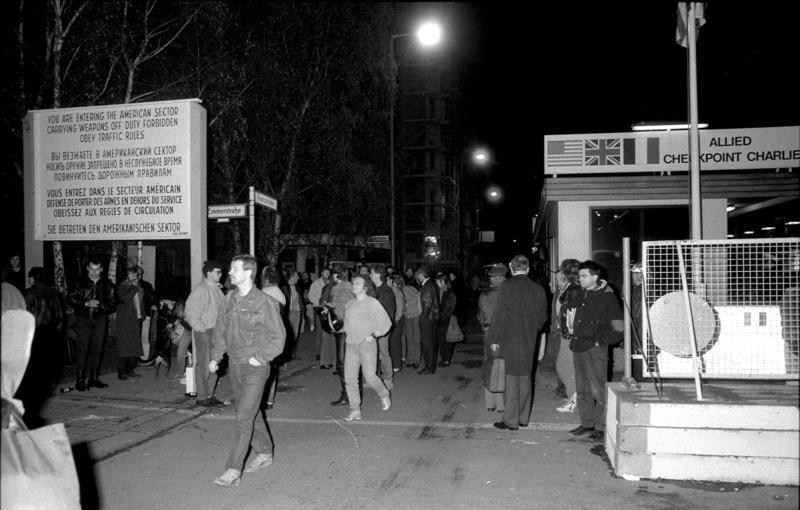 The Berlin Wall began to appear on 13 August 1961. Open Doors' founder, Brother Andrew, was one of the first to pass through Checkpoint Charlie. He has vivid memories of the impact of the Wall: "The flow of refugees from life under Communist rule was stopped overnight. There was no way out, no one could escape. The result was a wave of suicides, including some evangelical pastors. They lost hope."
There was a clear ideological clash of values. One Communist thinker said, "The responsibility of the Communist is to be a militant atheist, an active fighter for the purity of Soviet ideology, for the complete eradication of religious prejudices."
This was a regime based on rigid control. The church was isolated and under threat. Brother Andrew's colleague, Johan Companjen, explains, "Back then, the Communists did not tolerate Christians at all. Christians felt totally forsaken. One pastor in Hungary said, 'No one knows where I am, not even my family. Thank you for coming.' Then he cried and cried. The police had closed his church and put him under house arrest."
But, despite the threats, the arrests and the imprisonment, Brother Andrew's abiding memory is that the church showed strength. He reports that one pastor said, "Boxing makes us strong."
The origins of Open Doors come from Brother Andrew's determination to play his part in strengthening this persecuted church. He made the first of many visits, taking Bibles through the checkpoints, praying that seeing eyes would be made blind.
Hundreds of thousands of Bibles were delivered. His conviction, then and now, was that Christians under this kind of pressure needed the encouragement of fellowship and the strength that could be found in God's Word.
At the same time, he was moved to comment, "The persecuted church has so much more to teach us than we could ever teach them. To see the way they persevere under opposition, love God and forgive their tormentors is something we need to learn a lot more of in our society."
PRAYER CHANGES THINGS
In 1982, Open Doors decided to prioritize work in the Soviet Union, focusing on two major projects: reaching out to the tens of millions of Russian Orthodox believers who did not have a Bible, and strengthening the church in the Muslim republics of the Soviet Union, giving them a vision to reach out to their Muslim neighbours. This was backed by a seven-year prayer campaign.
Slowly but surely, things began to change – and the impact was seen in the wider political world as well as within Open Doors. From 1987, large numbers of religious prisoners were released from labour camps and prison cells. There were 340 imprisoned Christian believers in 1985; just 17 by March 1990.
By 1988 the Soviet economy was in crisis. President Gorbachev, looking for support for a restructuring program, promised that from this point on Christians would be recognized as 'Soviet people, working people, patriots'. Churches began to be reopened.
In the same year, changed postal regulations allowed tens of thousands of New Testaments to be sent to believers and churches across the Soviet Union.
Brother Andrew took advantage of the new openness to get an agreement that, during the millennium celebrations of the Russian Orthodox Church, Open Doors would officially present them with one million New Testaments: he handed over the one millionth copy in person in Moscow to the Patriarch Alexy II.
The Nikolai Church in Leipzig, East Germany, had been holding prayers for peace every Monday evening since 1982. From a handful, the numbers had grown, and the prayer meetings became a focus for people longing for change. In October 1989, around 70,000 gathered outside the church: it was the revolution of 'candles and prayers'.
So, by November 1989, it was clear that change was sweeping through the Communist bloc. But the dismantling of the Berlin Wall, while the border guards looked on, was a dramatic sign that things would not be the same again. An Open Doors team member recalls that day: "My colleague and I got straight in the car and drove to Berlin to be part of that historic occasion. What a joy, what an answer to prayer!"
NEW HOPE – NEW RESTRICTIONS
Militant Islam has seen growth in areas where once Communism thrived. in many Central Asian states, after the fall of communism, Muslims from oil-rich nations used their wealth from this industry to reopen mosques and train new mullahs in Central Asia; Saudi Arabia donated one million Qurans to Soviet Central Asia. Despite heavy restrictions on religion, Islamic militancy is on the rise in all states of Central Asia; ISIS recruited some of their fighters from this region. In Tajikistan, Islamic groups are spreading due to poverty and the influence of Iran on Tajik society.
But the church has also been growing. In 1989 there were less than 1,000 Christians among the traditional Muslim populations of Central Asia; there were hardly any Turkmen, Uzbek or Tajik Christians. Since then, the indigenous church has come to life in Central Asia, and the Bible and Christian books have been translated into these languages.
In Azerbaijan, Chechnya, Kazakhstan, Kyrgyzstan, Tajikistan, Turkmenistan and Uzbekistan there are now dozens, hundreds or, in most of these countries, thousands of indigenous believers. Where there was perhaps no more than a Gospel in the national language, now there are New Testaments – even complete Bibles.
Central Asia has seen a remarkable and wonderful revival among Muslims. It is estimated that there are 320,000 believers from Muslim backgrounds in these states, out of a Protestant population of 322,700, and they are well integrated into many of the Protestant churches.
This revival really began in the 1990s, in the era of openness. After 1998 there was a significant exodus of foreign ministries and missionaries, as doors were slammed shut by various governments.
But thanks to your support and prayers, Open Doors continues to work in Central Asia, providing immediate aid to Central Asian believers when they are placed in prison, excluded from families and communities, and deprived of livelihood and employment because of their faith in Christ. We also strengthen the persecuted church in Central Asia through literature distribution, Biblical training, specific training for children, youth and women, advocacy and awareness training, vocational training, helping believers to start small businesses, presence ministry and prayer support.
'WE NEED YOUR PRAYERS!'
Please continue to pray for our church family in the states of Central Asia that were once a part of the Soviet Union. Pastor Oleg* leads a church in Uzbekistan that is mainly made up of Muslim background believers. He says, "First of all I would like to say thank you for prayers! It sounds so encouraging that people from other countries are praying for us, I am so grateful for this!  To feel God's peace in our hearts in different circumstances, this is what I consider the most important for Christians. Please pray for this.
"Pray also that we would keep the passion for following Jesus and for our ministry. Pray for us to be able to resist the pressure with God's power and not to make 'steps back' in our struggle but win over difficulties. Uzbek Muslim background believers need your prayers!"
*Name changed for security reasons