Ethiopia
| | |
| --- | --- |
| World Watch List Rank | 36 |
| World Watch List Score | 65/100 |
| Leader | Prime Minister Abiy Ahmed |
| Population | 112,759,000 | 67,491,000 Christians |
| Main Religion | Christianity |
| WWL Rank in 2020 | 39 |
| Persecution Level | Very High Persecution |
In Ethiopia, persecution is dependant on denomination and location. The government's special relationship with the Ethiopian Orthodox Church means other denominations are persecuted by the state and the Orthodox Church. Christians who leave the Orthodox Church are subject to family and community pressure and can face significant mistreatment and some churches can be restricted from holding religious gatherings.   
Converts to Christianity from Islam can be harassed and oppressed by their families and communities. In some regions, Christians are denied access to community resources, ostracized, and discriminated against. Some Christians are subject to violence when Islamic extremists attack churches and homes.   
Christian women have been forced to marry non-Christians and then recant their faith. If a woman converts to Christianity in a non-Christian area, her husband is likely to divorce her and she may lose custody of her children. 
WHAT CHANGED THIS YEAR?
Ethiopia rose three spots on the 2021 World Watch List over the 2020 report—largely because of an increase in violence against followers of Jesus. During the COVID-19 pandemic, Christians were targeted and discriminated against for their faith when government aid was distributed. Many were denied help. 
HOW WE HELP
Through local partners and churches, Open Doors has been active in Ethiopia since the late 1980s. Our work focuses on equipping Christians for the work of ministry—whether it is leading a local persecuted congregation, sharing the gospel with unbelievers, or helping new believers grow in the knowledge of Christ.
We are also helping Christians deal with the emotional and physical results of persecution. We do this through offering livelihood support and training for church leaders and Christians, and by helping followers of Jesus prepare for persecution. 
Pray for the Christian denominations in Ethiopia, particularly for the Ethiopian Orthodox Church. Pray they would see the unity that is possible in Jesus, and that they would embrace Christians of every kind under the banner of Christ's Kingdom.  
Pray for Christians living in areas where Islamic extremists are active. Pray for protection and that they would not be discriminated against or oppressed.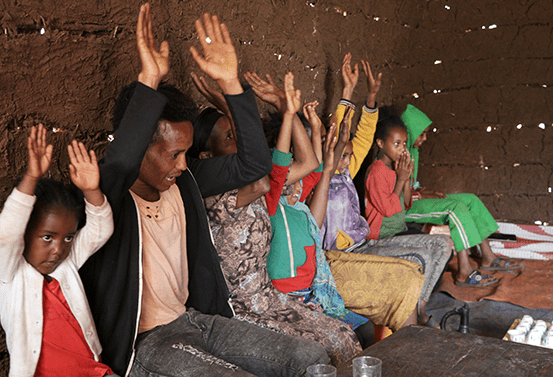 RECENT STORIES FROM
Ethiopia