In July of 2012, the Syrian Militia took control of Irbin, a suburb of Damascus, forcing thousands from their homes. Among the displaced was Joseph Hakimeh, a local Christian.
He recalls having to flee. "that period was very hard, we didn't know what tod o or where to go. I have a family to look after. I studied electrical infrastructure, but I couldn't find a good job. We went through tough times."
When his hometown gradually came back under government control in 2018, he returned – only to find everything demolished. "My heart was grieving. Yet I decided not to surrender and promised myself to come back."
"The first time I returned to Irbin, the thought came to my mind that I should open a restaurant here. There is no such place in the whole area." Through his church, Joseph got connected with Open Doors, who helped him with the process of starting up a restaurant. In early 2021, it was ready to be opened.
Al Yousef Cafe and restaurant is the first and only cafe and restaurant in Irbing. "It is a place for the youth to gather, to play games, to watch football and for families to have a nice dinner together. Our space is also used for conferences, we already had a doctor doing an educational conference for women. It is the only spacious hall in the city."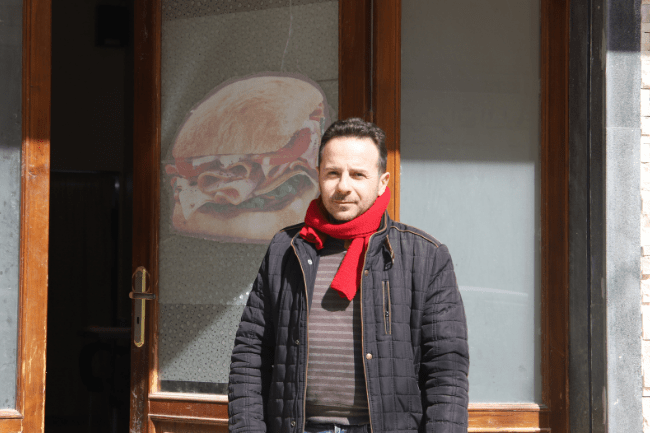 "My dream is that Irbin will be restored to how it was before the war. I was born here and so were my wife and three children. I want to bring my family back and settle here, the community of Irbin is very family friendly. The church taught us loyalty and care and that we are one family. I was raised this way and I want my children to experience this as well." Joseph says with a convincing steady voice "I am very hopeful for the future."
Joseph wants to thank those who supported him in his journey. "The money you are donating is truly saving families from underneath the ashes. You are giving a dose of hope and optimism to broken and exhausted people," he says. "May God strengthen you and bless you. You are a source of joy to me and many others who get help from you." Joseph's cafe is only one of the income generating projects that have been begun in the aftermath of the war.
One Open Doors staff member in the area says about the income generating projects for believers: "This gives them the opportunity to support their families and to build a future again in their country. It encourages brothers and sisters around them, when they see them succeed. Thus you're bringing hope to many Syrians. Amidst the destruction in the country, these are the burning candles of hope, showing that the situation in the country isn't only one of deep sadness and despair. The war doesn't have the last word."
Joseph is just one of many Christians who struggle to get back on their feet after being displaced for years. Pray for strength and courage for these believers, and that God would encourage them by providing for their needs.