War has heavily impacted Syria. You can imagine how nine years of war has left many Syrians in dire need. While the war still is not over, things have now further worsened with COVID-19.
We asked George Moushi, pastor of an Alliance Church in northern Syria, about the impact of this pandemic.
"COVID-19 has a big impact; normal life is almost non-existent," the pastor explains. "The number of poor people has increased. Especially those people who are daily laborers who, if they don't have work today, receive no wages. The need to provide for their family members and especially their children is bigger than ever."
Mourad*, the manager who oversees the work Open Doors does through local partners in Syria, recognizes this sad time very well. "We hear this cry for help now from all over Syria and even from all over the region. Every pastor that we partner with says similar things. We have plans in place to help people; we try to allocate more money to them. We're organizing ourselves and our local partners, trying to identify the neediest people."
Plans Changed
In Syria, the fear of further spread of COVID-19 is big. The years of war have left the healthcare system almost completely destroyed. Can you imagine facing this pandemic without an adequate healthcare system?
On top of limited health care, persecuted Christians living on daily wages during a strict lockdown—and families already struggling due to war—are desperate for food and medicine.
Prior to the pandemic, our partners in Syria had planned to reduce the emergency food distribution in 2020, but now that is not possible. The churches cannot allow their congregations to suffer from lack of food and security.
"At first we stopped distributing relief packages. But when we saw the increased need, we restarted the distribution. We gave people food and washing detergent coupons. Our church saw that now was a time to stand by the people, support them and show Jesus' love in difficult times," says Pastor George.
Mourad, expresses the deep need: "The needs are overwhelming now, and we need our brothers and sisters who can support us now more than any time before."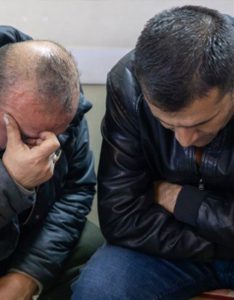 Will you help provide our persecuted brothers and sisters with food and emergency services during the pandemic?
I saw men, women, and children crying of hunger
"The biggest need I see around me right now is the need of food,"  pastor George says. "We opened the Good Shepherd Center only for two hours, to distribute food coupons, and around 80 families came." Pastor George knows the need is obvious, but their resources are limited.  "We need more money to be able to meet this huge need. People are hungry. Some called me crying because they have no food for their kids and families. Especially displaced families who have no relatives here so they can't even ask to borrow money from anyone, just to keep them alive until this crisis ends. I saw men, women and children crying of hunger; it's tragic. We're in dire need of funds to support a larger number of families. We're trying to help as much as we can with the means we have. We helped only 80 families, but the number of needy families is much higher."
Like everywhere else, the Syrian church had to find a new way to meet as services are not allowed right now.
"We try to stay in touch, and we stay connected through WhatsApp," pastor George explains. "We have three [online] meetings every week. We have devotions and we praise and worship together. Everyone prays and shares their thoughts and feelings. At the same time, we share our prayer requests with each other and exchange the latest news.
"Many were encouraged that the church cares for them and keeps in touch with them. I also regularly call the members of the church to check if they need anything. I visited some nearby families, taking the proper precautions by wearing a mask and gloves. Because I'm a pastor I can move more freely in the city, so I can provide for the needy families if they need something and they can't get themselves.
"The need is not just material. Many people are weary and afraid, so I prayed with them. I visited some sick people and comforted them, that way I try to keep in touch with the people."
When asked what he and the church are praying for, pastor George says, "We pray that the Lord would intervene to lift the epidemic away from our country Syria and off the world. We also pray for more help and support for needy people. We pray that this crisis would end as soon as possible to save many people from hunger."
The need is growing all over the persecuted church
It is not just in Syria that has been affected. The situation is worsening for our brothers and sisters in many countries because persecution does not stop for the pandemic.
Many believers are overlooked or given less emergency aid because of their faith. They are struggling to survive through this pandemic. But you can help them!
Thank you for all your prayers and support for your persecuted family during this crisis. And please remember, when you give you not only help families survive, but you also strengthen the Church in some of the most dangerous places to be a Christian.
*Name changed for security reasons
Please Pray
Holy Father, great healer and physician, we pray that You would provide special encouragement and blessing to your children who are hurting as a result of the coronavirus. Please give them good health and provide them with the funds to buy food and other supplies. Give them comfort in their grief, and allow them to share that comfort with others, that they may continue to reflect your love on earth. Thank you for your promise of hope through this time. Amen.
May Prayer Points
Please pray for the necessary resources to be provided to those who are in the greatest need
Many Christians cannot depend on help from family and community, and the pandemic has shut down the livelihood they need for sustenance. Pray for encouragement and support in this time.
Pray for protection and healing for those affected by COVID-19 around the world.