Three pastors from a Baptist church who were detained during anti-government demonstrations in Cuba last July, have been released after being kept incommunicado in prison for 15 days.
Yeremy Blanco Ramírez, Yarian Sierra Madrigal and Yusniel Pérez, who remain under house arrest and still face criminal charges, were out in the streets of Matanzas in the center of the country, during the protests on July 11th filming on their mobile phones what was happening.
They were soon arrested and taken to a maximum security prison controlled by the State's secret police. They were charged with "disturbing the public order" and other more serious charges such as sedition, which was later dropped.
While Pastor Sierra Madrigal was taken by police, his wife Claudia Salazar and son were forced out of their rented accommodation after the owner received threats from State security agents to evict them or risk losing his home.
In a letter released to the media, Claudia had these harsh words to say about the government´s actions on July 11th:
"Until when we will have to endure so much abuse and so much oppression? Who is going to judge the communists for having gone out to attack unarmed citizens demonstrating peacefully and without weapons? Where is the justice?"
 A fourth pastor who was also arrested, Lorenzo Rosales Fajardo, still remains in detention in a prison in Santiago de Cuba. At the time of writing this story, there had not been news of him; the Cuban authorities have not allowed his family to visit him since his detention.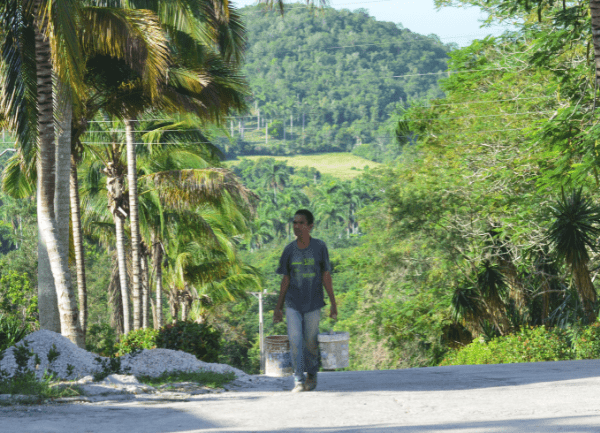 Unprecedented social unrest in Cuba
The demonstrations last July saw thousands of Cubans taking to the streets of towns and cities across the island to protest against the government and call for greater freedom and changes in a system that is beginning to show cracks not only in its structure but, most importantly, in the country´s leadership.
 It all started in San Antonio de los Baños, south-west of the capital, Havana, spreading quickly to all corners of the country from the province of Pinar del Rio all the way to Santiago de Cuba and Guantanamo, on the eastern tip of the island.
The nation has not had such an expression of social discontent in decades. Protesters told international media outlets that they were not afraid of what the government could do to them but wanted a big change in their country, calling on President Miguel Díaz-Canel to step down.  "We do not want any more dictatorship", an unnamed protester told the BBC.
 The demonstrations were met with a wave of repression which resulted in dozens of people being detained and imprisoned including, as already stated, several Christian Evangelical church leaders.
The ills fueling discontent
In the last few years, the economic situation in Cuba has gone from bad to worse. According to a report by the Reuters news agency, the economy contracted 10.9 percent in 2020, and another 2 percent through June of 2021.
 The COVID-19 pandemic has not helped at all. Cases are on the rise, particularly with the presence of the virus' Delta variant. And the country has seen foreign revenues flows from tourism and other sources quickly drying out, prompting severe shortages of food and other basic goods.
Recently, Open Doors interviewed several Christian leaders in Cuba to understand what the situation is like for churches inside the island.
 Referring specifically to the July 11th events, Pastor Paulo* told OD that the church has their own reports that demonstrate the violence carried out by government forces against protesters:
 "The protests were initially peaceful, but police repression with violence, gunfire and death turned them into violent demonstrations in at least one province in the country", the pastor said.
 "We have internal church reports than indicate one death by firearm in the city of Cárdenas, several massacres, and two deaths from beatings that happened in the municipality of Batabano, in the province of Mayabeque, south of Havana".
 Another of the pastors interviewed by Open Doors, Pastor Luiz*, with 30 years of missionary work in the country, talked openly about how difficult it is to plant new churches in Cuba due to endless restrictions and regulations.
 When he decided to register a new denomination for his church, authorities warned him that since 1959 no new names had been registered. The only option for him was to join an existing church or face the consequences of doing something deemed illegal.
 But as the years have gone by, and despite the official threats, Pastor Luiz has continued to preach in different homes under the legal umbrella of other religious denominations which have given him protection in this way.
 "We meet in my house's garage and in homes around different neighborhoods, because to this day we do not have a temple, not even the possibility of legally registering our church", Pastor Luiz said.
 Restrictions for churches have become more acute with the pandemic, as another church leader, Pastor Jorge*, told Open Doors:
"During the pandemic we were prohibited from holding any kind of meetings. After a request by several church leaders, the government allowed only 15 percent of the congregation to meet in temples. Government officials and State security agents will frequently visit those pastors that weren´t granted such an exemption, and they would be prohibited from holding any services at all", he said.
 Pastor Jorge added that the church in Cuba is constantly monitored by the government who sees it as an enemy. "Government officials have joined some of the WhatsApp groups the churches have set up, and they do so to monitor our activities. So, these channels of communication are no longer secure for us", he explained.
 The pastor made a final reflection about the need to help Christians in Cuba to know true religious freedom. "This is something that doesn't happen in our country, we lack the means for that", he said.
International Day of Prayer
Cuba is one of four countries that we will be focusing on during the International Day of Prayer for the Persecuted Church on November 7.
Prayer
Pray for the pastors who remain under arrest, either at home or in prison, that they would be freed to continue their work.
Pray that the government would recognize the needs of its people and make effective changes
Pray that Christians and church leaders would be given wisdom to know how to navigate the difficult political circumstances